Making old things new again.
Home remodeling doesn't have to be expensive or time-consuming. In fact, some of the very best renovation projects are simple, easy and very affordable.
From Simple to Sublime: Kitchen Remodeling
Updating your kitchen can be as easy as picking up a few new appliances, painting the cupboards and cabinets, and installing a new tile floor. These affordable upgrades can completely transform the look and feel of your kitchen without breaking your budget.
And none of this work takes long at all. In fact, a very simple kitchen renovation can be professionally completed in less than a week with very minor disruption to your everyday activities.
To get a little more 'bang for your buck,' consider installing a new backsplash, and upgrading to quartz, granite, or a new marble countertop. New kitchen countertops with a complementing tile backsplash will make a dramatic statement. And while we're adding your new countertops and backsplash, we may as well update that old kitchen sink too! Stainless steel sinks with built-in drainboards are very popular now. and so very useful.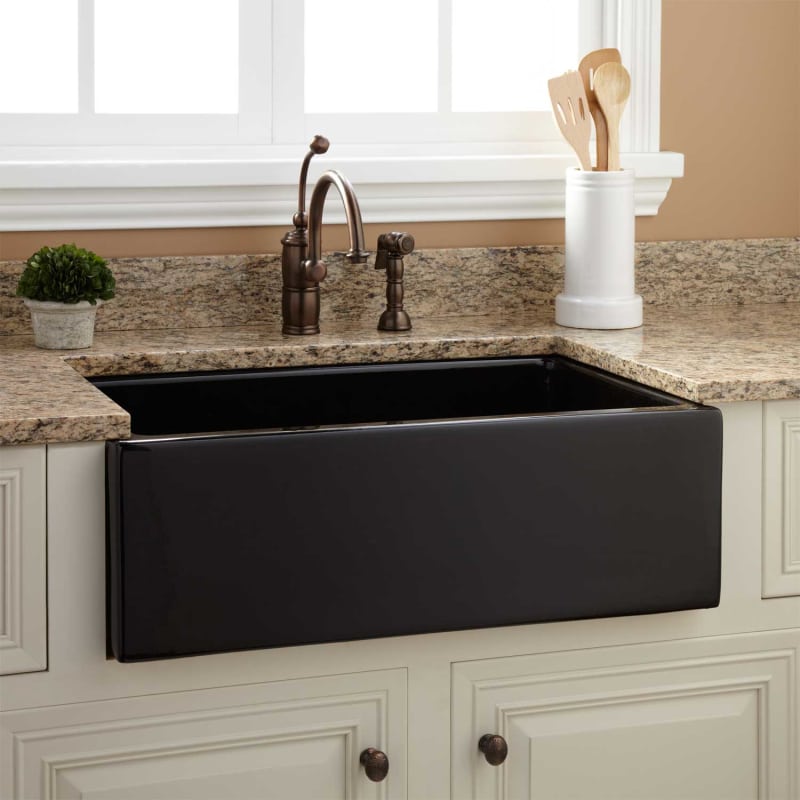 Or, consider the old farmhouse sink, updated and upgraded in fireclay, enameled steel, cast iron, acrylic or copper material.
The beauty of a farmhouse sink is in the many advantages it offers. With a large front apron that extends down the front of the countertop, your new farmhouse sink is easier to work in. The slightly lower and front-facing profile means that you won't be bending, stooping and reaching over as you work the way you would with a more traditional kitchen sink.
The larger size of a farmhouse sink makes it perfect for holding your larger pots and pans, canning jars, or for washing your fresh produce, straight from the garden or farmers market. Another great advantage of the updated farmhouse sink is that it just looks so darn good. It's stylish, practical and it's sure to become the focal point of your newly renovated kitchen area.
Bathroom Renovation
It's nice to use a clean, well-organized bathroom -no matter where we are.  Of course, you want the bathrooms in your home to be clean, comfortable, convenient and well-organized too.  Buying a new set of bath towels and applying a fresh coat of paint on the walls is going to look really nice, but it probably isn't going to solve any of your storage space or usability issues, is it?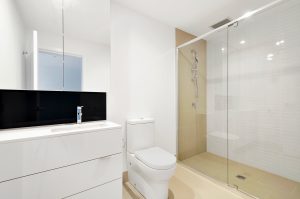 The trick with bathrooms is to design your space so that it works for your family, and compliments your lifestyle. Just a little planning here goes a long way. For instance, you can gain a lot of usable floor space simply by choosing a minimally sized entry door. Remember, the door has to swing into the bathroom, so we can't have anything that gets in the way or that might interfere with people moving into and out of that space.
We may also want to consider installing a pocket door, or the very popular barn door style entryway for your newly renovated bath area. These are very attractive options that add an element of originality and style, while also being quite practical and efficient as well.
And speaking of efficiency, it's always a good practice to map out whether or not your current layout is as efficient as it could be. This doesn't take long at all and has virtually no costs associated with it.  In many cases, we're able to relocate the toilet or replace the old and dated plastic shower enclosure with a new, custom shower constructed of tile and glass. The newly updated shower will usually take up much less floor space while providing a much nicer appearance and improving the overall look, feel, and efficiency of your entire bathroom area.
Finished Basements

The basement area of most homes is under-utilized, and that's a real shame. Basements don't have to be damp, dark, and dreary dungeons that never see the light of day. In fact, the basement offers several advantages that the rest of your house just can't match. Basements are naturally cooler in the hot summer months and tend to maintain more consistent temperatures throughout the year. Basements are relatively easy to insulate and don't have the same energy loss concerns as the home's upper floors due having fewer places for heat to escape. Many of the 'downsides' or disadvantages of your basement can actually be viewed as 'upside' advantages in many situations.

Basements are great places for bedrooms, guestrooms, and gamerooms.  Bedrooms and gamerooms are usually places where we like it dark, and where natural light can sometimes interfere with our plans. No need to worry about that in your newly renovated basement.

Basements are also great places for storage, and when we say "storage," we're not just talking about your holiday decorations, old school books, children's toys, and all those old clothes you're saving for "some day" when you'll wear them (or fit into them) again.  No, we're talking about a new pantry or even better, how about a new wine cellar?

Basements just happen to be an ideal environment for storing wine of all types and from nearly every region. All that's needed are a few upgrades and minor renovations to regulate the temperature and humidity, and you've got yourself a world-class wine cellar.

Of course, you're going to want to partition this area off from the game room and guest suite, and while we're at it, we may as well add a full bath for all the entertaining you'll be doing now. But luckily for you, now you know some pretty handy people who love doing that sort of work and who just happen to be extremely talented at it as well.
Master Bedrooms and En Suites

You spend nearly a third of your life in your bedroom. Shouldn't this be a warm, safe, comforting space to be in?  We think so too.  And we believe that's why we do so many bedroom renovations throughout the year. This is another area of the home where proper planning and carefully considering the best use of your available space is so critical and we have the experience to show you exactly how to do just that. Adding closet space, creating additional storage, and expanding the floor plan to create the en suite of your dreams is what we do best.

Just think how much you would enjoy relaxing in a large jacuzzi or garden tub just a few feet away from your private bedroom suite. A nice, spacious walk-in closet to change into your comfy pajamas or silky sleep-wear after your relaxing bath would be the perfect end to a long and productive day. And the next morning, when you wake up refreshed and renewed, you could start a fresh pot of coffee right at your new coffee bar. Relax in your reading chair as you enjoy that first cup of coffee or tea, waking refreshed and ready to start the new day.

Sounds nice, doesn't it?  We can make that happen for you.
No matter what kind of renovation you want to see in your home, hiring an expert contractor who can coordinate, manage and guide your project to completion makes sense. At Homeowner Services of Michigan, we provide design and consultation services to guide you every step of the way. We give you peace of mind by working hard to make sure your project finishes on time and on budget.  Once we're finished, your home will be more functional, useful, enjoyable, and valuable.
Whether it's a new front porch, a new deck, a home office, or your own personal home gym, your remodeling project doesn't need to be stressful. From designing your plans to purchasing materials and making sure every specialty contractor performs their part of your project quickly, effectively and efficiently, we're here to handle all the details and make sure you get the value of quality workmanship and materials that will last you a lifetime.
We take great pride in the work we do, and thanks to more than three decades of experience, we'll surpass your expectations each and every step of the way!
When you choose Homeowner Services of Michigan, you choose experts who commit to your project and go the distance to make sure you get incredible results. We're fully familiar with the ups and downs that come with any kind of project, and we have the know-how to hurdle every challenge.
Contact us to get started today!