The kitchen is the center of every home. The kitchen is where we entertain our family and friends, and where we gather together to prepare our meals, grab a snack and talk about the day's events with one another.  Kitchen remodeling projects don't have to be expensive and time-consuming either. In fact, in many cases, we can update your kitchen with minimum disruption to your life and your budget.
The first few photos here are from a recent kitchen renovation project we just completed in Chelsea, MI. With very little cash out of pocket, these folks were able to totally transform their kitchen space by painting their kitchen cabinets, installing a new backsplash, updating their countertops and appliances.
The remainder of this gallery are photos of other kitchen remodeling projects that we've completed in the past year.
We're always adding photos to our Facebook page too!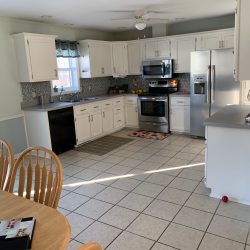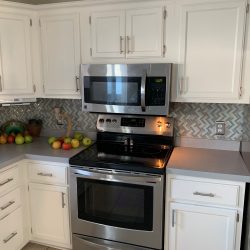 Having a functional kitchen space isn't a luxury, it really is a necessity. We can work with you to create a kitchen that works for your family and your budget. Contact us by phone or schedule an appointment below to see how affordable a new kitchen area can be.